20个最佳的HTML5开发工具,以节省您的时间
If you want an environment where you can test, explore and experiment around with different types of CSS, HTML, or JavaScript codes. It will provide you real time results as you type, thus making the coding process quicker and easier.
As the name hints, this tool allows creating really cool patterns such as lines and stripes etc. You can edit your pattern by line width, color, angle and gap etc. It is perfect for creating background images etc.
This awesome tool allows customizing your loader to make it look more attractive and eye-catching and providing the visitors a better experience while the thing of their choice is being loaded. It does not require any coding.
It allows creating flipswitches that enable the visitors on your site to turn on/off the animations on the page. These switches can be made using tiny codes that are compatible with various OS and browsers.
This tool makes testing fonts for suitability with your design really easy as it takes away all the hassle of font codes etc, but simply allows you to test website fonts by dragging and dropping them.
It enables adding life in sprite images by adding them with HTML5, CSS3, or JavaScript codes.
This one is a simple tool that allows creating art using your mouse, thus the name Sketch Toy.
As the name suggests, this awesome and feature-rich tool allows creating animation that is compatible with all browsers.
Initializr is rightly named so as it lets you start developing from scratch by offering you an environment where you can select which parts you would like to be included in the HTML site development and which not. It also provides responsive templates to begin your work easily and quickly.
This tool actually gives you a kick-start for your website creation from scratch as it allows editing buttons, lists, tables and typography etc in a few clicks.
This tool helps you choose the suitable font by allowing you to view real-time previews of your page with different fonts so that selecting the right font won't be a very difficult task.
Webdirections is a nice playground for codes that allows them to test, explore and experiment with their codes. It has got some of the simplest click options as HTML5 Tools, CSS Tools, and design tools etc which can be easily and quickly accessed by clicks.
This one is an awesome site for coders and developers etc as it allows working, checking and experimenting on HTML5, CSS3, or JavaScript codes.
MRI tool allows testing selectors if they are acting normally as intended or not.
This one is a really cool game development website that uses HTML5 creation of fast and handy games that can be easily played from touch screen devices and desktop browsers both.
It enables you to find out how compatible your browser is with HTML5. It gives you a detailed review along with scores.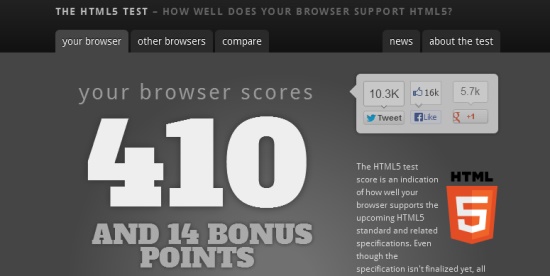 This easy-to-use tool is for all the non-tech-savvy developers out there that are used to creating websites / UI utilizing wireframes etc as it allows for easy and quick creation of websites.
This tool allows making sprite sheets and style sheets automatically according to the picture uploaded. As of yet, it is compatible with new browsers only.
As the name hints, this tool is perfect for animators and cartoonists as it allows creating drawings that can be seen shaking. Creating, editing, saving, and sharing it through 非死book, 推ter, and on email.
CreateM is a really cool HTML5 environment that allows editing all properties in your website. This makes editing your website on the browser an extremely easy task all with simple clicks.