10个基于Web的工具,帮助开发人员构建跨平台的移动应用
If you are no alien to HTML5, CSS3 and JavaScript, then this tool may be a great choice for building mobile apps on Blackberry, iPhone and Android. Sencha Touch 2 needs to be installed on your computer. You also require a web server running nearby on your computer (here's how to install XAMMP if you need help).
---
iBuildApp is an amazing tool for building mobile apps. They have a decent collection of templates for many diverse kinds of apps, and you can have your application highlighted in the iBuildApp Gallery.
---
appMobi XDK is web-based mobile app development setting that is accessible as a Google Chrome plugin. The appMobi service will also host your mobile application for you, as well as offer you with the capability to install it in prevalent app stores.
---
Widgetbox provides an easy-to-use online tool for crafting and presenting modest, content-based mobile applications. You can make pages for your application comprehending RSS feeds from blogs or other social networking sites.
---
AppMakr is a cloud-based tool for making content-centered mobile apps, as well as a facility that can aid you allocate your app in numerous app stores.
---
Tiggzi is a drag-and-drop tool for building mobile apps. You can supplement maps, standard buttons, video, menus, and other components to your mobile app and then fix events and conforming activities to them
---
jQuery Mobile is an HTML5 UI framework developed for touchscreen devices. The jQuery Mobile framework is up-front and well renowned.
---
foneFrame is a mobile HTML5/CSS3 framework for making mobile-optimized web pages. You can then utilize PhoneGap or appMobi XDK for the backend
---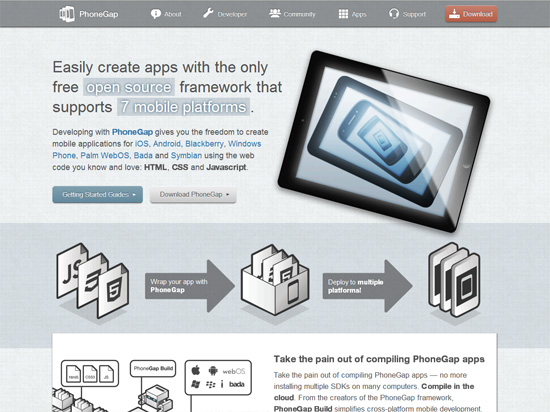 PhoneGap is a free and open source application that works as a channel among specific mobile OS SDKs
---
The people at PhoneGap have gone one step advance in making a web-based platform that constructs your "builds" for you.