50个漂亮和启发灵感的404错误页面
如果你的博客没有一个404错误页面,你应该马上想到设计一个。以下是50个最好的404错误页面,这些真的很酷和有趣。

1. Appealing Images
A hand-made image for only despaired visitors. It also has a search box.
2. Metro.co.uk's 404 error page
3. Propeller
4. CSS-Tricks
The outstanding blog CSS Tricks is a favorite among web designers and this beautiful 404 page replicates that.
5.Rainfall Daffinson
With Rainfall Daffinson, you will not get lost.
6. B3ta
7. Hootsuite
Hootsuite is an essential tool to those working on the web. The owl mascot in the 404 error page gives some amount of life which could or else have been a dull functional application.
8. Stylish 404 error page
This 404 error page looks pretty stylish.
9. Cuoma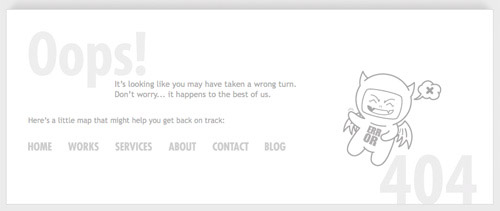 10. iStockPhoto
iStockphoto is a royalty free image provider and understands its users quite well. This attractive can put a smile on the face of a stuck user.
11. A book with a "cannot find" page
This is a book with a page which couldn't be find-perhaps a creative idea.
12. Tinsanity
13. Lego
Lego does not at all look annoying and in fact you'll love this attractive little tableau.
14. latelategifts
15. Slonky
16. Huml
17. Magnt
With Magnt, you can create a web page with a business card theme within minutes. Its 404 page has a call to action and direct you wherever you want to go.
18. IAMWW
19. iFolderLinks
20. MailChimp
Mailchimp has used some amount of lateral thinking in its error page and has come up with a great analogy for a link that is broken.
21. 404 Error page by Jamie Huskisson
Jamie Huskisson uses imagery to communicate with his lost visitors.
22. Wufoo
23. netmagazine
This 404 page designed by Mike Kus has a series of attractive flashing blocks with illustrations that represent various features of the web.
24. Village Obedinenine
Sometimes you can sense very well that you're not definitely looking for this page.
25. Deaxon
26. net magazine (tutorial)
This 404 error page has been made by Trent Walton and has a text cut-out effect that is animated.
27. 404 error page by alt-web.com
An error page by alt-web.com with a search box.
28. RetardZone
This is a 404 page showing two fighters.
29. Hakim El Hattab
This is another 404 page created for netmagazine by Hakim El Hattab. It's brilliantly executed and is attractive.
30. 404 error page by Jacob Thomas with a quote from Winston Churchill
31. PatternTap
32. Audiko
This error page illustrates London which includes the telephone box and the red bus.
33. 404 error page by Darren Hoyt
34. ClearSpring
35. Blik Wall Decals
This page is slightly disturbing as it shows a baby with a chainsaw that is blood-soaked.
36. Tadley Roundabout's error page
37. Tele2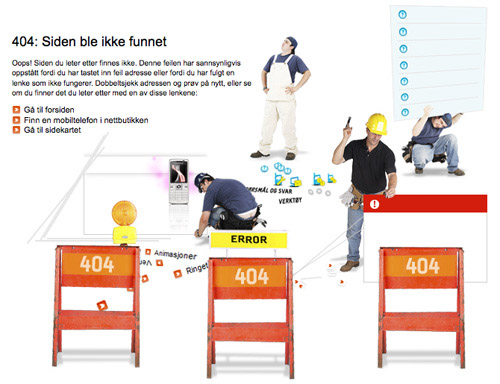 38. Duoh!
39. Error page by Poropoptrt.com
40. DDZ
41. Robert Sherman

This error page has been created by Robert Sherman, a graphic design student.
42. bioneural.net's error page
43. Catswhocode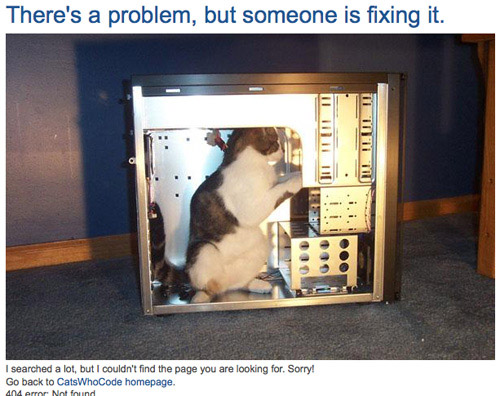 44. Bit.ly
This page has a cute little creature moving up and down.
45. CssLeak
46. Larknews
47. ApartmentHomeLiving
An amazing interior shot that is wacky and creative.
48. Next wave performance
49. Fluther
50. DropBox
This is a simple but effective error page with an Escher-esque box.