本周最新工具集合[2月6日至2月12日]
Wondering what it is about? Well, its a deal! Grabbing this deal you get to learn Angular: in fun and easy way with the cool escape plan. You get 68% off, if you hit the opportunity and don't miss your chance. This offer will help you heave a sigh of relief and enjoy the ease of learning Angular.
It is basically the The Angular Escape Plan to be precise. The course is pretty interactive and combines 7+ hours of screen-casts and instructional videos to teach you how to Master Angular for your latest creation. There is much more you can learn with ease but then for that you need to make the best of time and grab the deal. So what's the wait for?

This is an easy, elegant email tool for Mac that ensures unified inbox, attachment browser, quick reply and many more features that make it the best tool for solving the purpose.
I need not much about this website as the name says it all. The website includes cool motivational and inspiring tools for developers.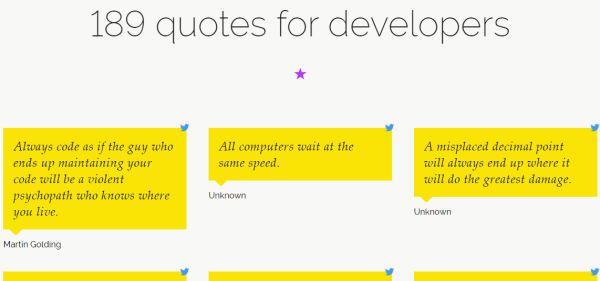 Plainemail is an app concept for efficient one-touch email processing that helps ease the task.
This is a JavaScript library that makes dealing with Apple's Force Touch and 3D Touch simple for the users. The simple API makes working with them painless.
MJML is the framework that ensures to make responsive-email super easy and speedy.
Created by Brian Diehr this tool namely Flex Box Editor lets users to drag or hover and go about making changes the way they want.
This is an email application built for the team of productive people. It lets you collaborate right in your inbox.

Typography plays a major role in designing. Retype is a tool that helps users enjoy being creative with typography. It features mouthwatering styles including 3D shadow effects and multi colour fonts. There's also inspiring and ever-growing quote bank that lets you create posters, invitations, banners in style.
This is a website that comprises of useful articles, tools and resources about startup design for designers, developers and non-designer startup founders
This is a one stop destination for best free themes for you all to check and use in your different ventures.
With this tool namely Winmool, users can created favicons, touch icons iOS and startup images easily.
Here is another deal from MightyDeals that actually is worth sharing and letting you all know about. Grabbing the deal will help you get 57 of the handcrafted fonts, 230 textures and 100s of design extras for mere $29. Its an exclusive deal that is a bunch of 57 hand-drawn fonts, 230 textures and brushes, and hundreds of extra design elements from Tom Chalky all for just $ 29. Its genuinely worth going for. Grab the deal now.
There are more such cool compilations coming your way. So, stay connected and we will keep you all posted.