IntelliJ IDEA 12 发布下载
今天,我们很高兴地宣布IntelliJ IDEA12 发布,我们的旗舰产品Java IDE的下一个主要版本终于发布并提供下载。

像往常一样,这是很难列出这个版本中所有的新功能。每一天,我们不仅尝试添加新的东西,但也重新思考现有的功能,使它更能为提高您的工作效率和可用性。所以,以下只列出IntelliJ IDEA12最令人期待的功能等。
新的用户界面和Darcula主题

The newest release of IntelliJ IDEA comes with a redesigned user interface, along with a new stylish dark look and feel called Darcula. The new interface is supposed to be more clean and functional. A lot of people find a dark look and feel much less distracting. Now that we've added it, you can focus more on the code and less on the IDE.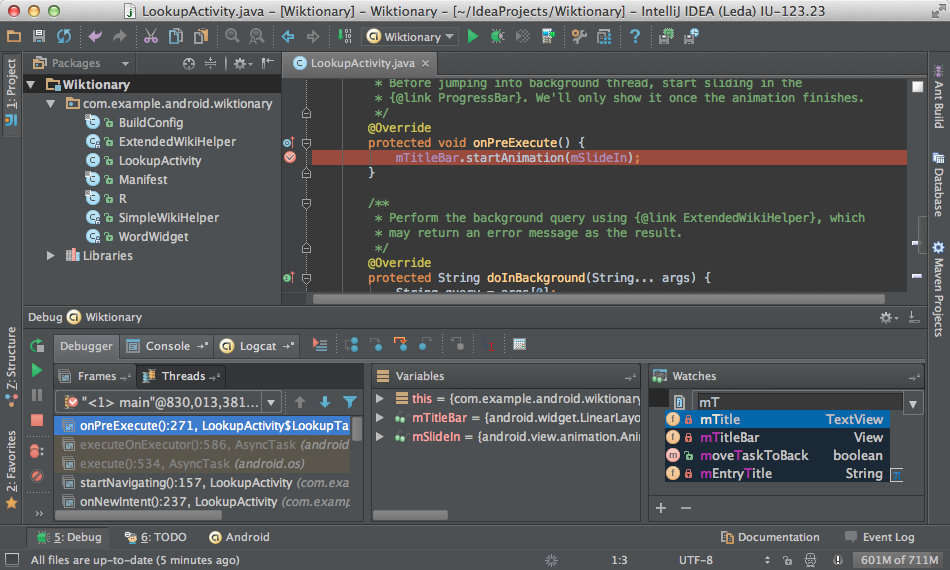 The new dark look and feel is fully customizable, so you can create your own dark themes, supported natively by every component of the IDE.

崭新的编译模式
In addition to the interface, IntelliJ IDEA 12 introduces a completely new approach to compiling the project, which is now much faster and provides better user experience. We have rebuilt it from the ground up to move the compiler to a separate process. Now the project can be compiled automatically in background on every change you make, so you can run it almost instantly any time.
For more details about the new compiler mode see this blog post.
Java 8 支持

Another important feature is support for Java 8, the next generation of the Java platform, announced by Oracle this year. IntelliJ IDEA 12 embraces the cutting edge version of the language and provides code assistance for the new syntax, such as lambda expressions, method references and default methods. Now you can try the new features of JDK 8 in your projects.
Android UI 设计器

Over the last year Android has become the-fastest-growing mobile platform. Ever since IntelliJ IDEA introduced support for Android in its free and open-source Community Edition, we've worked hard to make it better with each new release. Finally IntelliJ IDEA 12 comes with well-crafted UI designer, one the most anticipated features in this release.
Read more details about the new UI designer and enjoy a demo in our blog.
Spring Frameworks 支持
Intellij IDEA 12 comes with significantly improved support for Spring. The new update includes much better performance, support for XML and annotation-based configurations for the project simultaneously, enhanced dependency diagram (with drag and drop support) and of course code assistance for even more frameworks, such as Integration, Web Flow, MVC, Security, Batch and others.
Play 2.0 Support for Java and Scala
One more remarkable feature many people have been waiting for is support for the newest version of the Play framework. IntelliJ IDEA 12 enables you to create, run and debug Play 2.0 applications easily using both Java and Scala languages, with advanced code assistance, including templates support, formatter, refactorings and many other features.
数据

While IntelliJ IDEA is frequently called the most intelligent Java IDE, it also provides powerful database tools and support for SQL. The new release reveals more exciting features for developers who use databases in their projects.
With IntelliJ IDEA 12, you not only have intelligent code assistance for SQL, but can also design your database right from the IDE. As databases are part of most projects today, it is time for us to help developers work with them more productively.
Other important features introduced in IntelliJ IDEA 12 include:
Intelligent code formatting
Better management tools for J2EE application servers, with support Cloud Foundry and CloudBees cloud platforms
Support for Drools Expert with advanced code assistance
Cucumber for JVM support
To see the full list of new features in IntelliJ IDEA 12 and to download the edition of your choice, please visit our website.